圖博雪山獅子旗 ,在中國大使館高高飄揚,望海外台灣青年見賢思齊


希望台灣青年也像圖博青年一樣剽悍,

身手矯健攀爬進到中華民國駐外使館,

把車輪旗卸下,

升起代表台灣人的台灣國旗,

讓綠色台灣旗, 高高掛起

向全世界表達台灣建國的堅決信念

呼籲海外台灣青年把愛國熱情化為行動

驍勇剽悍將東京、紐約、倫敦、巴黎使館車輪旗全數拆掉

記得用DV、數位相機把整個過程錄影

上載到 youtube 公佈

讓新聞登上美國、日本、英國、法國主要報紙頭條。



台灣駐加拿大代表處
45 O'Connor Street, Suite 1960, Ottawa, ON KIP IA4 Canada

台灣駐美國代表處
4201 Wisconsin Avenue, N.W., Washington, D.C. 20016, U.S.A.
3731 Wilshire Boulevard, Suite 700, Los Angeles CA 90010

台灣駐日本代表處
20-2, Shirokanedai 5-chome
Minato-Ku, Tokyo 108-0071, Japan

台灣駐英國代表處
50 Grosvenor Gardens London SW1W OEB United Kingdom

台灣駐丹麥代表處
1256 Copenhagen K, Denmark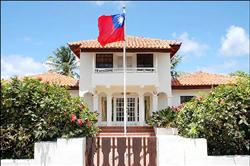 圖博國旗在加拿大多倫多 ,中國大使館高高飄揚


2008年3月10日,加拿大多倫多 ,圖博人徒手攀爬水管進入中國大使館 ,降下中國旗 ,升起了圖博國旗雪山獅子旗 。圖博人作風慓悍 ,勇往直前 ,令人敬佩 。消息傳出 ,這兩名學生立即爆紅,成為人人稱羡的圖博英雄 。

Two Canadian Tibetan Hero tops Chinese consulate in Toronto (CANADA) March 10th 2008.

Two young Tibetans scaled the Chinese Consulate in Toronto during the global March 10 protests, and replaced the Chinese flag with the Tibetan flag.

The Toronto Sun's front page: "Two students take down the Chinese flag and replace it with the flag of Tibet at the Chinese consulate on St. George St. yesterday. About 1,000 Tibetan demonstrators cried and cheered during the protest, held to spotlight human rights issues in advance of the Beijing Olympics. The students — whose faces have been blurred because of the youth criminal justice act — were charged with mischief and released. (Dave Abel/Sun Media)"

Towards the middle of the protest in front of the Chinese Consulate Building, a couple of youth snuck behind the walls and managed to get to the rooftop of the building. The boys, one of them of minor age, then proceeded to bring the flag of China down from the pole, and hang the Tibetan flag in its place. This spontaneous action further fueled the energy of the protesters below, as they cheered and applauded the youth for symbolically undermining China


http://blog.studentsforafreetibet.org/2008/03/11/tibet-flag-tops-chinese-consulate/
http://beijingwideopen.org/2008/03/04/bjork-speaks-out-for-tibetan-indepdence-in-china/
圖博雪山獅子旗,在巴黎中國大使館高高掛起



Tibetans storm Chinese Embassy in Paris(took down Chinese flag and hoist Tibetan flag)

Phayul[Monday, March 17, 2008 02:46]
By Tenam
Paris, 16 March: A group of Tibetans stormed the Chinese Embassy in Paris this afternoon. One Tibetan protester climbed the Chinese Embassy and replaced the Chinese flag with the Tibetan National Flag.

Tibetans and Tibetan supporters in thousand, in an appeal by the Tibetan Community here had gathered few blocks away from the Chinese embassy. After a while a group of Tibetan broke away from the cordoned area and started running towards the Chinese Embassy. After a brief scuffle with the police in front of the Embassy, the protesters realized that one Tibetan had climbed the wall and was headed towards the Chinese flag. The crowd cheered when the Tibetan flag replaced the Chinese flag.

Earlier today French Senators expressed grave concern at the situation in Tibet and the brutal Chinese response to it.

"We express our grave concern at the situation in Tibet, especially after the announcement of the brutal reprisals by the Chinese authorities to the demonstrators", said Louis de Broissia, President of Tibet Information Group at the French Parliament.In response to His Holiness the Dalai Lama's call for an international probe into the current situation in Tibet, the French parliamentarians have asked for a visa "as soon as next week" to visit Tibet, reported French news channel. "We ask Hu Jintao to take full responsibility for the criminal military repression against peaceful civilian protesters who had simply expressed their political opinion,"


http://www.freerepublic.com/focus/f-news/1986877/posts


圖博支持者在倫敦中國大使館升起圖博雪山獅子旗




圖博雪山獅子旗在倫敦中國大使館升起, 高高掛起

http://news.bbc.co.uk/2/hi/asia-pacific/961104.stm

Campaigners have marked the 50th anniversary of China's occupation of Tibet by demonstrating at the Chinese Embassy in London.

Two protesters from the Free Tibet Campaign climbed onto a balcony of the central London embassy and flew the Tibetan flag in a symbolic gesture on Saturday. One person was arrested.

The protest comes a week ahead of talks in China - involving western companies - on ways of developing Tibet's natural resources.


The occupation of Tibet is a half-century-old moral outrage

Free Tibet Campaign Director Alison Reynolds
Oil companies BP and Shell are sponsoring a conference in Beijing next week, which will discuss investment opportunities on the Tibetan plateau and in Xinjiang.

"The occupation of Tibet is a half-century-old moral outrage, yet China has effectively silenced the international community," said Alison Reynolds, Director of Free Tibet Campaign.

"Now China is entering a new phase, consolidating its position by asking Western companies like BP to finance the exploitation of Tibet's natural resources.

"This does not bode well for the next 50 years. When is the West going to stand up to China?"

On 7 October 1950, 40,000 soldiers from the People's Liberation Army crossed the upper Yangtse river and entered Tibet, ending decades of independence.

Embassy worker
A Chinese Embassy official moved quickly to take the flag back down
The Tibetan government in exile has estimated that 1.2 million Tibetans have died since the start of the occupation.

China is stepping up plans to extract Tibet's resources, and is seeking international finance to assist in this.

Free Tibet campaigners fear this will cause the migration into Tibet of large numbers of Han Chinese.

This, they say, "continues the policy of reducing Tibetans to a minority in their own country and eroding their unique cultural identity".

The Free Tibet Campaign also says that China is engaged in a further crackdown on anything that symbolises an independent Tibet, conducting late night house-to-house searches for photographs of the Dalai Lama.